Upcoming color trends for the 2019 Fall season are all about using new and exciting colors. Now, we know what you're thinking… Fall colors have been the same forEVER! Reds, oranges, yellows, browns… Those are very fun colors to use, but this year add in accent colors like lime green, magenta, or orange cream for exciting and unique arrangements, or in your other Fall decor.
Check out these great palettes, get inspired and start planning your fall season!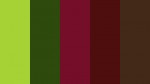 Don't forget your metals! Copper, Gold, Bronze, and Greened Copper are very trendy elements for fall floral design!
Here is a great list of more options you can ask us for in your floral arrangements for fall:
Harvest time veggies – okra, cherry tomatoes, gourds, pumpkins, etc
Wheat
Fall foliage
Pine Cones
Rustic Sticks
Artichokes
Succulents
Red/yellow sunflowers (also try using them without the petals, the green/brown is a great look)
Lotus pods
Mango calla lilies
Orange pin cushions
Fern leaves
Fern fronds
Kangaroo Paws
Hanging Amaranthus
Corn husks (natural or dyed)
Need more inspiration? Call us at (704) 342-4529 and let our expert Designers create something unique for you!
Or view our Fall selection of arrangements to order online at https://www,thecharlotteflorist.com.